As a result of collaboration with IGUASSU Software Systems, ESA is pleased to present SBAS Simulator, the latest EGNOS tool available online.
SBAS Simulator is a satellite based navigation systems simulation software. The main concept which led to the creation of the SBAS Simulator was to allow understanding and learning SBAS systems. Therefore, the tool is dedicated to everybody, from general to professional, with an interest in SBAS systems.
SBAS Simulator is a system volume simulator which allows providing performance based on simplified macro models for ECAC region. The performances over regions are only an approximation with no guarantee of the obtained results. With this understanding, the user can freely access the SBAS Simulator tool.
To run the SBAS Simulator, remember to accept the Java certificate of IGUASSU Software Systems. No additional software is required apart from the Java Runtime Environment.
To emphasize its role as a learning tool the SBAS Simulator provides the ability to conduct various GNSS simulations in a simple manner. These include:
Protection Level simulations
Ionospheric simulations
Navigation system error
Coverage of satellites
Satellite ground tracks
Sky plot and 3D simulations
Dilution of Precision
Inverse Depth of Coverage
Extended Depth of Coverage
Availability of the Depth of coverage
These powerful functions have been merged into a user friendly interface.
A screenshot of the tool is here: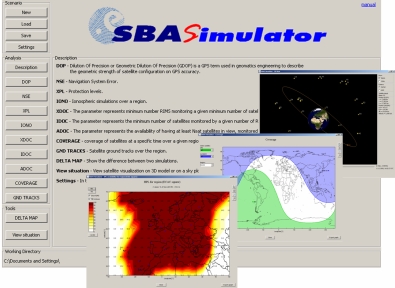 The SBAS SIMULATOR Team
From European Space Agency:
Project Manager
Felix Toran – Marti
Software Engineer
Ankit Raj Mathur,
Katarzyna Urbanska
From Iguassu Software Systems:
Principal Software Engineer
Miroslav Houdek
Software Engineer
Jiri Doubek,
Martin Krecek