SISNeT is a technology that combines the powerful capabilities of satellite navigation and the Internet. The highly accurate navigation information that comes from the EGNOS (European Geostationary Navigation Overlay Service) Signal-In-Space (SIS) is now available over the Internet and in real time via SISNeT.
Specifically, SISNeT gives access to the wide-area differential corrections and the integrity information of EGNOS. The SISNeT project was undertaken by ESA during the second half of 2001. In August 2001, the first prototype of the system was set-up, and the SISNeT concept was successfully validated. Since February 2002, the system has been operational, broadcasting an EGNOS signal through the Internet, as generated by the EGNOS System.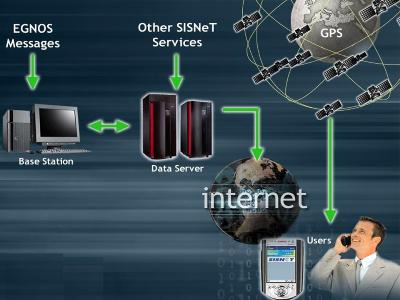 Any user with access to the Internet (usually through wireless networks - GSM or GPRS) can access EGNOS through SISNeT, irrespective of the GEO visibility conditions. No EGNOS receiver is needed.
The scientific and engineering communities can benefit hugely from SISNeT because they can exploit the EGNOS information simply via the Internet.
Open a SISNeT account
If you are interested in opening a SISNeT access account, please send an e-mail to the SISNeT Administrator (SISNET@esa.int)
A SISNeT account consists of the following information:
IP address of the SISNeT Data Server
port to which you connect
username
password
SISNeT access accounts can be obtained free-of-charge by sending an e-mail message to SISNET@esa.int with a description of the context in which SISNeT information will be used (e.g. for complementing a certain project, for application development, for research, etc.).
Please read the disclaimer before using the SISNeT service.
Few applications based on SISNeT